It is common to use a highway bus between Osaka and Tokushima.
If you use the "Tokushima Kippu" sold by Nankai Electric Railway, it will cost 2,200 yen.
(From October 1, 2023 (Sunday) 
Adults: 2,500 yen Children: 1,250 yen) can be used on Nankai trains and Nankai ferries.
Please refer to the official website for the latest information on fares and conditions.From
Osaka to Tokushima and Kushima Saki Kippu
From Tokushima to Osaka Nankai Ferry
points
・Use the automatic ticket gate
・The ticket states that you cannot get off on the way
.

・When boarding from Osaka, it is safer to take the train bound for "Wakayama Port" instead of "Wakayama Station"
・Purchase can be done from automatic ticket machines, but some
credit cards are not accepted (VISA touch payment is also supported, but the device is the same, etc.) Some restrictions apply
https://nankai-ferry.co.jp/833/table of contents
This route
Move from Osaka to Tokushima in the morning
1 night after sightseeing in Tokushima
The next day Naruto whirlpool sightseeing and then return route to Osaka
Naruto whirlpools used Uzushio Kisen
https://www.uzushio-kisen.com/#map
There is also a large Uzushio viewing boat, and the boarding point is different
https://www.uzusio.com/
Accommodation
★ JR Hotel Clement Tokushima
maps
https://www.google.com/maps/d/edit?mid=1jux0WOI4LodbD3QMavcmG8v17Z4RfSM&usp=sharinghttps://www.google.com/maps/d/embed?mid=1jux0WOI4LodbD3QMavcmG8v17Z4RfSM&ehbc=2E312F
From Osaka to Tokushima
Starting from Nankai Namba Station in Osaka
This is the method I used.
I think you can grasp the atmosphere of each place with the following videos.
Purchase tickets at Nankai Namba Station
You can buy it at the ticket vending machine, but I bought it at the window
.
moving by train
I took the limited express from Nankai Namba Station to Wakayamashi Station.
Note: It's easier to get to Wakayamako by timing the ferry.
Wakayamashi Station and Wakayamako Station are one section, but there are few trains.
Also, as you can see in the video, there is only a convenience store inside Wakayamako Station, so you
will have to wait at the platform.
There are various opinions about stopovers, but the ticket states that stopovers are invalid , so I think it's better to think that it's basically impossible .
for Wakayamako Station instead of the train bound for Wakayama City.
On the way back, I noticed that if you take the limited express directly bound for Nankai Namba Station and Wakayama Port, it will only take about an hour.
Ferry boarding
There is a direct connection from Wakayamako Station to the ferry terminal, so you won't get lost. You'll have to walk , but you 'll have plenty of time because it's
connected to the train.
The shop inside the ferry was only open when we were on the Tokushima side.
Vending machines for cup noodles and juice are also available onboard.
Disembark at Tokushima Port
There is a small shop at the Tokushima Port ferry terminal. You can also buy
tickets here on your way home.

There is a shop, but it's small, so it's a good idea to buy something before you go home.
Take the connecting bus
Use the connecting bus from Tokushima Port to JR Tokushima Station. It
will come right after disembarking, so don't miss it.
The fare is fixed at 210 yen
and the last stop is JR Tokushima Station.
I used a one-day ticket on the way back QR code payment is also possible
stay
There are many famous hotels around JR Tokushima Station.
I stayed at JR Hotel Clement
.
About tourism
The big ones are
・Gourd Island Cruise
・Awa Odori Hall
・Naruto whirlpool
See
video
From Tokushima to Osaka
There is a large bus terminal in front of JR Tokushima Station
.
Take a bus from JR Tokushima Station to Tokushima Port
Since I was sightseeing, I had a one-day pass. It is
convenient because it can be used here at the same time as sightseeing.
I purchased it at the bus terminal in front of Tokushima Station.
As an aside, the one-day ticket does not require a numbered bus ticket
.
important points
As I mentioned in the video, it is not called Tokushima Port, but the
station name is Nankai Ferry Terminal.
There may be a bus that goes directly to the Nankai Ferry Terminal, but the one I took was via
I think it felt like going around shopping malls such as Aeon.
Tokushima Port = Nankai Ferry Terminal I think you should remember this
From Tokushima Port to Wakayama
Since the ferry boarding and Wakayama Port are the same, I will omit them.
Purchase tickets to Osaka with cash There
is a shop, but it is small, so if you need anything, it is better to buy it in Tokushima city.
I'm from Osaka, so I took the Nankai Namba line, but for sightseeing, I think Wakayama sightseeing is also good because you can use all stations of the Nankai Electric Railway (except Senboku Rapid Railway).
digression
From Tokushima Station, there are many buses in various directions.
I chose this route because I wanted to take the ferry, but the highway bus is more convenient.
Starting from Osaka,
the range spreads from Wakayama to Tokushima Tokushima to Kobe and Osaka, or Kyoto and Tokyo.
If you want to go sightseeing in Wakayama, etc. If you want to use the Nankai train If you want to
take a ferry (about 2 hours)
If you want to enjoy the atmosphere of Shikoku
It is recommended for such people because they can relax.
There is a ferry from Osaka to Shikoku, but it will take a long time.
If you are coming from overseas, there are many routes to go sightseeing in Tokyo or Kyoto and then return from Kansai International Airport, but I think you can get a different taste by going to Tokushima or adding Wakayama to your sightseeing.
The sunset seen from the ferry is also beautiful.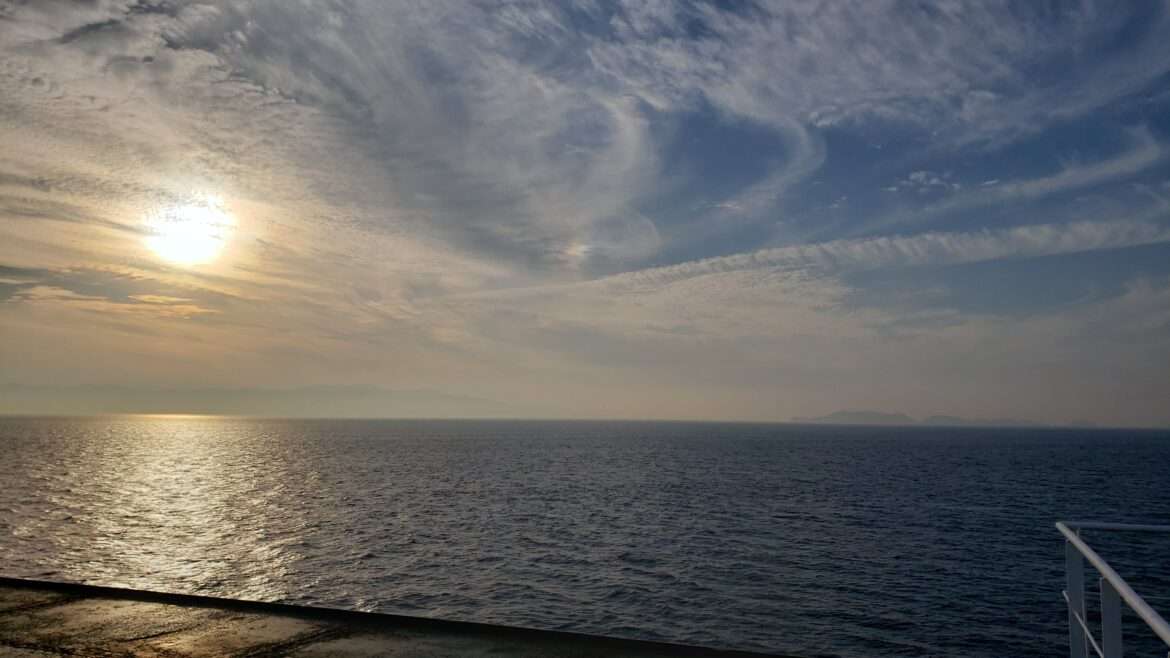 This route
https://www.google.com/maps/d/edit?mid=1jux0WOI4LodbD3QMavcmG8v17Z4RfSM&usp=sharinghttps://www.google.com/maps/d/embed?mid=1jux0WOI4LodbD3QMavcmG8v17Z4RfSM&ehbc=2E312F
https://medium.com/@xray404/video-included-osaka-tokushima-cheap-ticket-tokushima-love-ticket-e5f923e03663